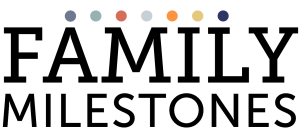 Family Milestones are periodic church experiences to encourage practical home discipleship. Each milestone represents a key stage in the lives of a parent and child. At these stages we want to equip you, encourage you, and walk with you.
Milestone 1
Milestone 2
Milestone 3
Milestone 4
Milestone 5
Milestone 6
Milestone 7
Milestone 1
Stepping into Parenting
Parent Seminar: (2 Hour Required Seminar)
This seminar covers topics like: our vision for families, why a parent/baby dedication  our calling as parents, mom's role and dad's role, and ways to build biblical foundations.
Campus Event: Parent/Baby Dedication in worship service
Seminar Description:
Join us for a discussion for new parents with infants ready for baby dedication. Our time together will offer a biblical basis for your calling as a parent, a vision for your child, and some practical ways the church can support you through these exciting and challenging months.
(Note: This class is a pre-requisite for the parent-baby dedication. You must be a church member to participate in the dedication.)
Date: Late September/Early October
Milestone 2
Milestone 3
Milestone 4
Milestone 5
Milestone 6
Milestone 7